CHAMPION PLANTS USA
Regular price
Sale price
$45.00
Unit price
per
Sale
Sold out
CHAMPION S. POWER
Champion S. Power (Please View Labratory Report in Images)
 An Exclusive to Champion Customers! What is Shilajit?
"The Conqueror of Weakness"

"The Fountain of Youth'
"The King of Herbs"
…these are just a few of the historical names given to shilajit.
Packed with minerals from prehistoric landscapes, this mineral pitch oozes from the earth after eons of mixing and super-heated pressurized reduction to create a superfood capable of re-vitalizing the human body.  Shilajit has an extraordinary capacity to nourish and restore, not only human health, but also entire ecosystems.

Minerals are often sold as supplements that are difficult for the body to assimilate and digest and they are commonly sold one at a time, or in compounds that do not adequately reflect foods we eat.  Shilajit is comprised of a variety of compounds that the body can readily digest, replicating the way nature intended for these minerals to be reintroduced to natural systems. Easily dissolved in water, the minerals found in shilajit can be absorbed very quickly, and often times result in very abrupt shifts in the body's ability to compensate for accumulated deficiencies in our diets.

Fulvic acid is a primary compound attributed to the nourishing qualities of shilajit. Fulvic acid is a chemical compound that has several minerals bound to it. These minerals are easily released into the body when dissolved in water. In a natural system, the water cycle continuously moves minerals from high elevations through water systems back into nature. We can gather these mineral deposits and refine the material to make it safe for consumption through ancient techniques. In the human body, these molecules dissolve into their component parts and the minerals are released as ions making it easier for the body to absorb. Many other mineral supplements are packaged as compounds that are difficult for the body to dissolve and assimilate since they are sourced from materials that are not intended for consumption, e.g. calcium from pulverized seashells. The fulvic acid in shilajit is one of nature's ways of releasing rich mineral contents back into the environment. 
Due to the high availability and abundant variety of minerals in shilajit (shilajit contains all of the minerals used by our bodies), historical references to its profound benefits are common in Eastern cultures. Reports range from extending life and eliminating weakness to regulating or moderating a wide variety of conditions. Shilajit supports the body in many ways particularly when it is compromised by stressful circumstances whether from environmental factors, poor nutrition, elevated anxiety or over exertion. Similarly, for those of us who are in relatively good condition, an abundant source of available minerals will support the body and mind in the pursuit to achieve greater performance. 
It is reported that shilajit was given to elite soldiers in the former Soviet Union to increase athletic performance and enhance cognitive ability. In this respect, shilajit is known as an adaptogen. Simply put, an adaptogen is a substance or food that can support the body in many different ways; simultaneously acting on several systems to support overall health especially to counteract stress.  Adaptogens were first developed and studied during World War II. Scientists were looking for a way to help healthy pilots perform at even higher levels. Basically, they were looking for a "superhero" pill that would let the pilots fly better, faster, and for longer periods of time.
How can your body benefit from shilajit?
Shilajit supplements are a great way of ensuring that your body is getting all of the minerals required for optimal health and general vitality.

Why Champion Superpower Shilajit?
Champion shilajit is the real thing - wild crafted from high in the Rocky Mountains right here in North America.  From mountain to tincture the path of our shilajit is marked with respect for tradition and an emphasis on purity and quality.  Every batch is tested at an independent laboratory with results provided in photo gallery.

Share
View full details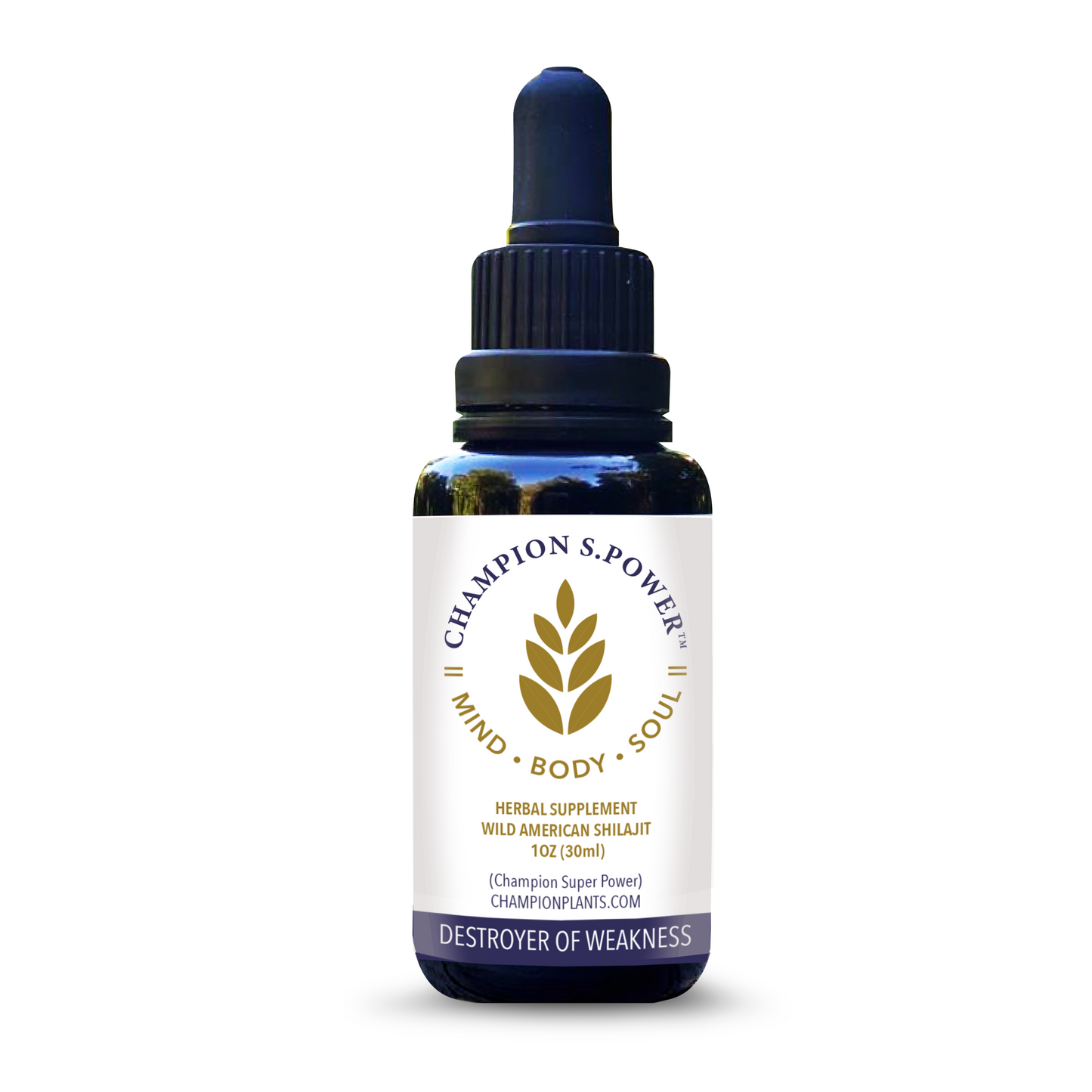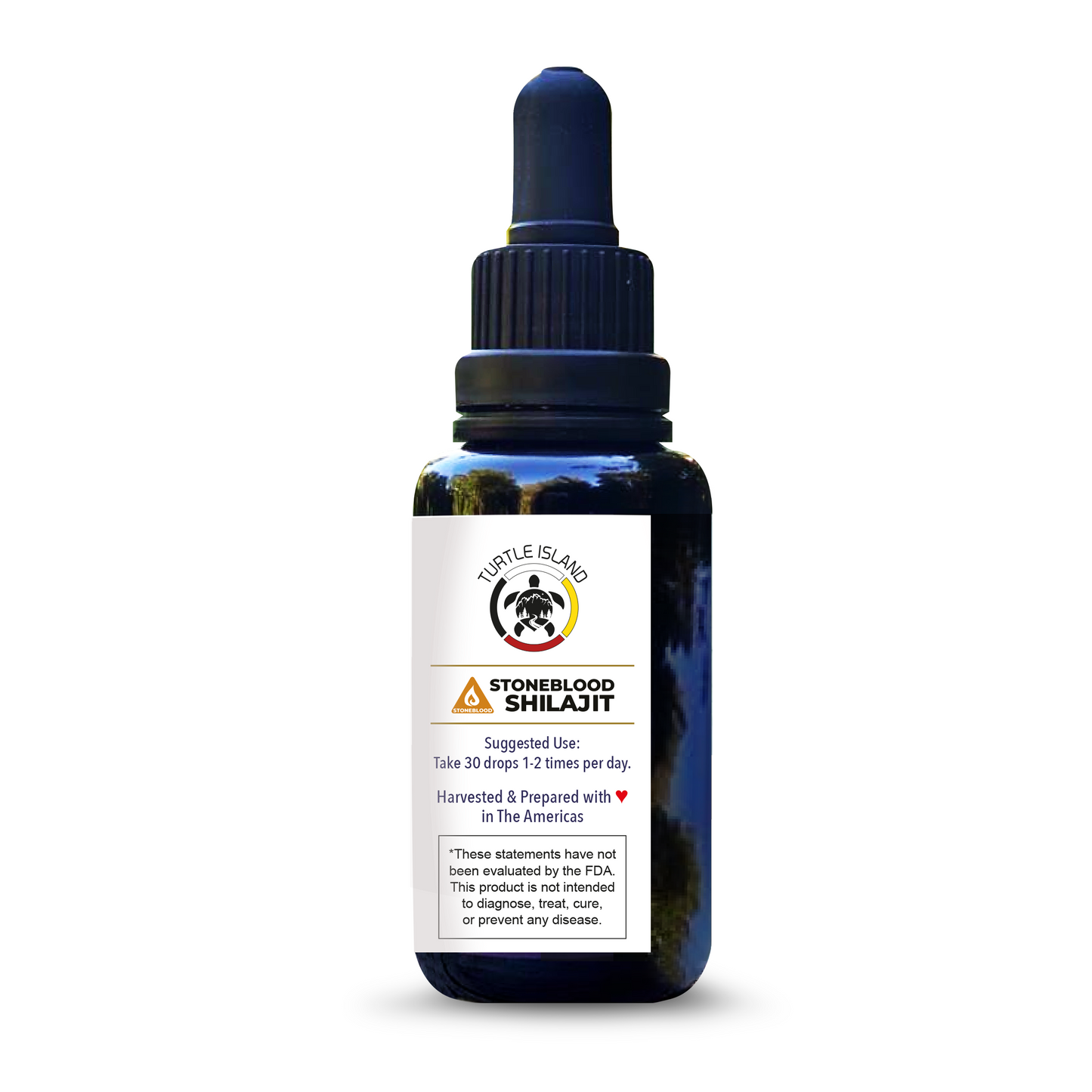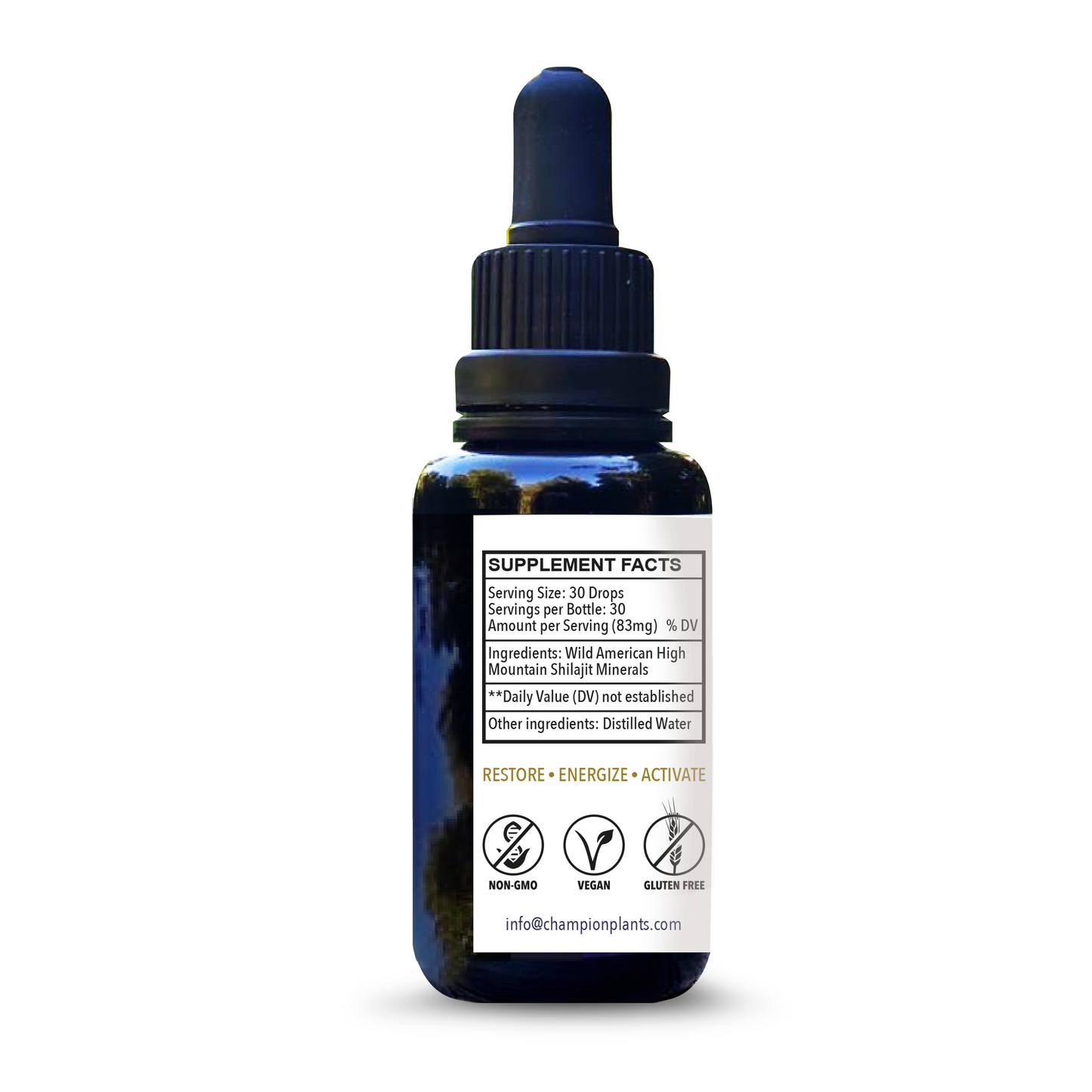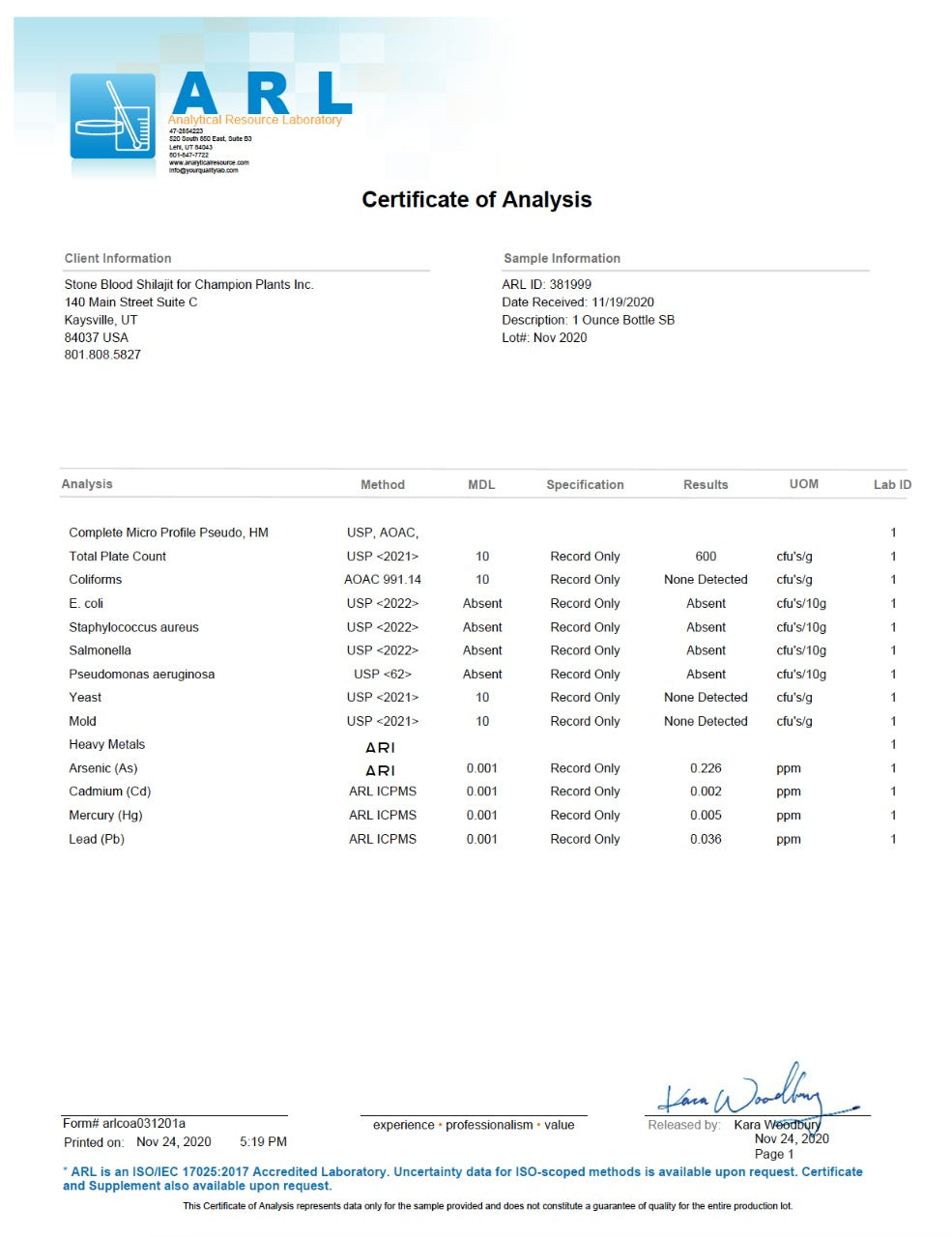 Add a title to introduce your product's features
Highlights

Provide details in each of the collapsible rows to give your customers the information they need to pick the best product.

Change the title and icon of each row to suit your brand.
Feature a compelling customer review about your product or brand.
Multicolumn

Use a combination of images and text to share information about this product, and your brand.

Multicolumn

Consider adding information about your shipping and return policies.

Multicolumn

Consider highlighting your environmental commitments.

Multicolumn

Consider describing a money-back guarantee or highlighting your customer service.
Introduce other complementary products.
DESCRIBE HOW TO PAIR PRODUCTS TOGETHER
Image with text
Pair text with an image to focus on your chosen product. Add details on availability, style, or even provide a review.
Shop now
Image with text
Pair text with an image to focus on your chosen product. Add details on availability, style, or even provide a review.
Shop now
Image with text
Pair text with an image to focus on your chosen product. Add details on availability, style, or even provide a review.
Shop now